Species of the Genus Buddleja
I won't repeat all the excellent work on Wikipedia here and suggest you follow the link for each species or the category link here:
Organisation of Buddleja
Kingdom:
Plantae
(unranked):
Angiosperms
(unranked):
Eudicots
(unranked):
Asterids
Order:
Lamiales
Family:
Scrophulariaceae
Tribe:
Buddlejeae

Genera included in this tribe:

Buddleja; Emorya;
Peltanthera; Gomphostigma.

(Polyprenum moved to the Tetrachondraceae.)
Buddleja species were divided into four sections by Leeuwenberg (1979):
SECTION: Buddleja – New World species distinguished by a valvate corolla e.g.: B. americana.
SECTION: Chilianthus – African species with anthers that protrude beyond the corolla e.g.: B. saligna.
SECTION: Neemda – the majority of species from all continents.
SECTION: Nicodemia – African species, many from Madagascar, distinguised by forming a berry (indehiscent) rather than a dry (dehiscent) seed capsule e.g.: B. madagascariensis.



Buddleja species organised by Continent
Phylogeny of Buddleja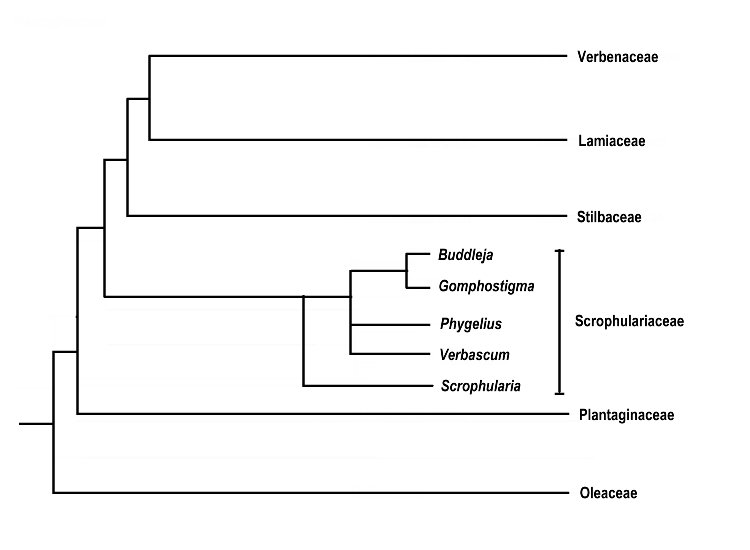 Approximate phylogeny of Buddleja within the order: Lamiales.
Buddleja and the related species in the Buddleja tribe are members of the Scrophulariaceae also known as the figwort family; the closest relatives within the family are Phygelius (cape fuchsia or cape figwort) and Verbascum (mulleins). Note that not all the Lamiale families are shown and that the tree is not to scale.
References
Gao Chen, Weibang Sun, Hang Sun. (2007) Ploidy variation in Buddleja L. (Buddlejaceae) in the Sino- Himalayan region and its bio-geographical implications. Botanical Journal of the Linnean Society 154 pages 305–312.
Leeuwenberg, A. J. M. (1979) The Loganiaceae of Africa XVIII Buddleja L. II, Revision of the African & Asiatic species. H. Veenman & Zonen B. V., Wageningen, Netherlands.
Li, P. T. 1982: A study on the genus Buddleja L. of China. — Acta Bot. Yunnanica 4 (3): 227–240.
Marquand CVB. 1930. Revision of the old world species of Buddleja. Kew Bulletin 1930: 177–208.
Moore, R. J. (1960). Cytotaxonomic notes on Buddleia. L. Am. J. Bot. 47:511-517.
Norman, E. M. (2000). Buddlejaceae. Flora Neotropica 81. New York Botanical Garden, USA.
Link to buy from Amazon.co.uk.
---