LO AND BEHOLD BUDDLEJA HYBRIDS
The Lo and Behold Buddleia hybrids are being bred by Dr. Dennis J. Werner at the North Carolina Agricultural Research Service, part of the NC State University USA. The aims are in common with other programmes: to breed small non-invasive Buddleja. These hybrids are much smaller than the typical B. davidii cultivar and have a very low seed set. They are not all fully sterile and several recent introductions are derived from the earlier hybrids. Pedigrees are shown where available. With the notable exception of Miss Molly/Red Chip they have a common ancestor in a single hybrid that is a combination of B. lindleyana, B. davidii, and B. globosa (B. x weyeriana Honeycomb x (B. davidii Nanho Purple x B. lindleyana)).
They represent a distinct series of hybrids and merit a separate page. Some may be superceded as improved cultivars are developed. I intend to add photos and review their garden performance in the UK as I acquire and assess them. Names often vary between North America and Europe so both are shown.
Blue Chip

The first to be released and the source of many of the later hybrids. It was hailed as the first truly dwarf Buddleja, although 'White Ball' probably has that honour, but is certainly very different to anything that came before. It shouldn't grow to more than a metre in height and spread. It's not fully sterile but with a low seed set rendering it non-invasive. The foliage is quite unusual due to the B. lindleyana heritage. The flowers are crowded and, in cooler climes, a mid-mauve rather than blue.

BLUE CHIP INFLORESCENCE

BLUE CHIP

RED CHIP

Miss Molly syn. Red Chip

The exception in the series as it does not derive from the NC2000-1 hybrid of B. lindleyana and B. davidii. Buddleja x 'Attraction' is the main source of genetic material (see pedigree below): apparently this is a hybrid of B. x weyeriana Honeycomb and B. davidii Royal Red. The seed parent is Miss Ruby and Miss Molly/Red Chip is a very similar plant but is both smaller at 1-1.2 metres and with brighter flowers. Described as red although the flowers are actually a good intense magenta-pink. Many European nurseries had trouble propagating it as the foliage became distorted during preparation for sale, although this was not apparently due to a pathogen (personal communication: Bransford-Webbs).

Lilac Chip

Even smaller than Blue Chip and with lilac flowers but otherwise similar. Possibly the smallest of the family and from the cross Blue Chip X Miss Molly (Red Chip).

The pedigrees of Blue Chip, Miss Molly/Red Chip and Lilac Chip



Ice Chip syn. White Chip

This looks very much like a white version of Blue Chip, which is not surprising, as it is a seedling of Blue Chip. The foliage is like Blue Chip and the flowers don't seem to fully open in trhe same way. But the panicles are much longer and less crowded.

The pedigree of Ice Chip/White Chip

Purple Haze syn. Purple Chip

Very different with pendulous panicles of a pleasant purple, a spreading low-growing habit and good robust foliage . A seedling of Miss Ruby crossed with an un-named hybrid.

PURPLE CHIP

The pedigree of Purple Haze/Purple Chip
Blue Chip Jr.

One of the new releases for 2014 and not yet available in Europe. It is a result of a cross of Blue Chip with an un-named predominantly B. davidii hybrid. It is reported to be an improvement on Blue Chip with better silvery foliage, consistently blue flowers and less brittle stems. Photo courtesy of Dennis Werner

BLUE CHIP Jr.
The pedigree of Blue Chip Jr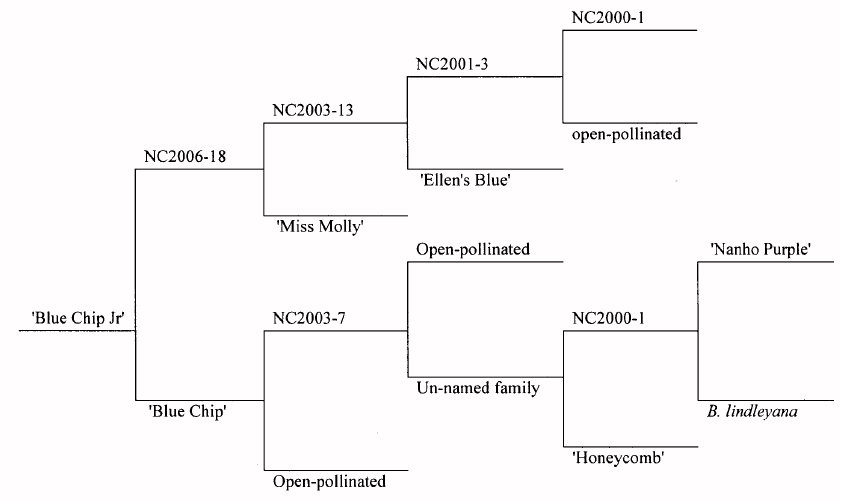 Pink Micro-Chip

The second new release for 2014 this adds pink to the range of colours in the Lo and Behold series. Reported to be very compact and floriferous, it resulted from the cross Lilac Chip X Miss Molly (Red Chip). Photo courtesy of Dennis Werner

PINK MICRO CHIP